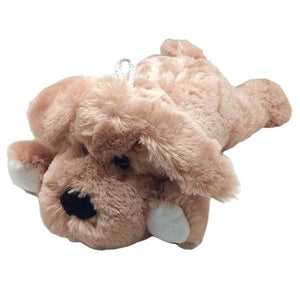 RELAXUS
Puppy Hot/Cold Gel Doll
Sale price Price $16.50 Regular price $27.50
Warm 'N Cuddly
This soft, furry friend will warm your heart up in seconds!
Hot and cold therapy taken to a new cute level. Relaxus' soft material and calming lavender make us perfect for bedtime. 
Product Features
Microwavable
Filled with all-natural lavender and flaxseeds
100% polyester
Long-lasting heat
H12" (approx.)


Instructions:
• Remove the tags from your Cozy Cuddly
To warm:
• Place stuffed animal in microwave oven. Set a standard microwave to 75% Power. Microwave for 60 seconds.
Caution/Warning:
Monitor to ensure this product rotates freely around the turntable in your microwave during heating.
To cool:
• Put the stuffed animal in a sealed plastic bag. Place in the freezer for at least one hour.
Additional Caution/Warnings:
Touch test prior to removing from the heated Cozy Cuddly from the microwave. Do not ingest contents. Do not overheat. Overheating can result in excessive moisture and may result in the fabric dye staining other fabrics/furniture. Reheat from room temperature only. Not suitable for infants or others who may be comprised or otherwise incapacitated. If unsure, consult a medical professional with any medical concerns prior to use.

To wash: Spot clean fabric with a damp cloth and air dry.