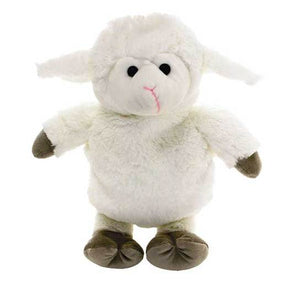 RELAXUS
Sheep Hot/Cold Gel Doll
Sale price Price $15.00 Regular price $25.00
This Soft, Furry Friend Will Warm Your Heart Up In Seconds!
Hot and cold therapy taken to a new cute level.  This fun, cuddly Sheep Hot & Cold Gel Pack contains a water-based, non-toxic gel pack that can be chilled for cooling comfort, or microwaved for soothing warmth. Retains temperature for up to 40 minutes. 
Product Features
Non-toxic
Water-Based
Microwavable
Freezer safe

Reusable

Height: approx. 30 cm (12")
How to Use
First, remove gel pack from animal cover.
Hot Therapy
Place gel pack in microwave for a maximum of 30 seconds. Return pack to animal. To add heat, microwave gel pack in 15 second increments.
Cold Therapy
Store gel pack in freezer for a minimum of one hour. Return gel pack to animal.
Care & Maintenance
Surface wash animal with cold water and mild soap. Air dry and gently brush to restore plush.