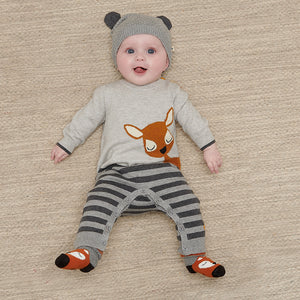 The Bonnie Mob
Baby Deer Romper (Cotton/Cashmere)
Sale price Price $88.00 Regular price
This knitwear got the softness just right, and nowhere is it more spot on than in this beautiful knitted baby playsuit with a touch of cashmere. You really have to feel it to believe it! Featuring an adorable unisex deer intarsia design, striped bottom half and buttons for easy dressing, this gorgeous winter playsuit makes mini Mobsters look so cute it's hard to handle! Pair it with matching hats, socks and blankets for the ultimate baby gift.
By fully fashioning our knitwear, it takes a little longer to knit but we don't waste any yarns by cutting and throwing away the leftover, which is better for the environment. This is an age old knitting technique which ensures quality, crafted by our wonderful factory in Hong Kong who we have worked with since we started in 2004.
Made from luxuriously soft 95% Cotton, 5% Cashmere
This cotton has been approved by the Better Cotton Initiative, which ensures fair payment terms and invests in education for farmers to help them improve their yield, as well as use water more efficiently.
Cotton is a versatile material and it's smooth and cool, it allows the skin to breathe and prevents overheating.
Our clothes are sustainable and long lasting - we love nothing more than hearing that a much-loved knit has been passed down to second, third or even fourth siblings!
Baby: 0-3m, 3-6m, 6-12m, 12-18m
Machine Washable at 30°, because busy parent's need easy garment care, whilst saving energy and the environment.