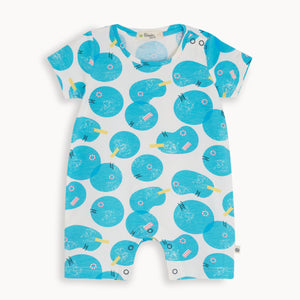 The Bonnie Mob
Pools Onesie (Organic Cotton)
Sale price Price $45.00 Regular price
Ready for the summer pool party! Lagoon onesie print is inspired by the colors and paintings of David Hockney. Add the sunhat to complete the look!
Made from luxuriously soft and sustainable 95% Organic Cotton, 5% Elastane for softness, comfort, stretch and a more durable fabric - perfect for summer.
Cotton is a versatile material and it's smooth and cool, it allows the skin to breathe and prevents overheating.
Organic cotton is great for delicate skin as well as the environment
We design for longevity - cuffs are made for turning, so they will still fit many months later
Machine Washable at 30°, because busy parent's need easy garment care, whilst saving energy and the environment.