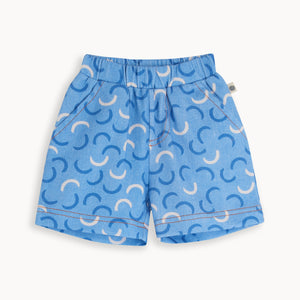 The Bonnie Mob
Blue Demin Waves Shorts (Organic Cotton)
Sale price Price $36.80 Regular price $46.00
These unisex denim baby bloomer shorts are a must have staple for every baby's summer wardrobe. Their elasticated waistband and leg opening makes them nice and secure, with plenty of space for nappies whilst letting squishy little thighs roam free! They are the cutest summer baby and toddler option. Printed with a fun wave print, they pair perfectly with all elements of the collection making them really versatile. 
Made from luxuriously soft 100% Organic Cotton terry.
Cotton is a versatile material and it's smooth and cool, it allows the skin to breathe and prevents overheating.
Bonnie Mob's printing methods have zero pollution: the process doesn't use any nasty chemicals which is great for the wearer and the environment.
Machine Washable at 30°, because busy parent's need easy garment care, whilst saving energy and the environment.