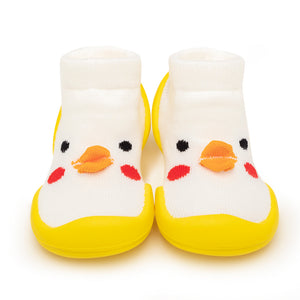 KOMUELLO
Chicks Sock Shoes
Sale price Price $27.20 Regular price $34.00
Stylish, functional, and safe for your little destiny. Komuello shoes are designed and made with your little destiny in mind. 
Recommended by parents on the go, these lace-less shoes are both easy to put on and take off. Made with a cotton top that wraps the little feet just like comfy socks, these shoes have superior elasticity that helps keep them on.
Safe and comfortable, these shoes are made from non-toxic, BPA Free, 100% TPE (Thermoplastic Elastomer) rubber material (often used in baby teething toys), should these shoes ever make its way into your baby's mouth. Slip resistant and breathable, the beehive patterned TPE natural rubber sole and tiny holes on the sole that allow air circulation, these shoes are designed to keep little feet in these shoes on all day, both indoor and outdoor. Comfort is enhanced by Komuello's patented unique Air Pocket between the sock layer and sole provides extra cushion. 
Recyclable, these shoes won't hurt the environment when thrown away. Although, we highly doubt these cute shoes will ever make it anywhere near a trash can. We recommend you keep them as an heirloom piece to be passed on for generations.